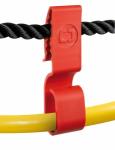 Cable Hook
Cable hook that lets through the shore power cord and the dock-to-boat water hose.
€ 15.93 (VAT including)
293.30 TL (VAT including)
Hella marine Sea Hawk Led deck floodlight
Hella Marine Sea Hawk Led deck floodlight. Flush mounting.

A new class of ultra efficient, compact and lightweight LED lamps and can be installed almost anywhere onboard, interior or exterior. Completely sealed and weighing a mere 250 grams (including cable). Power consumption is very...
€ 135.59 + VAT
Click here for more.