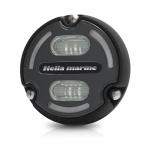 Hella Marine Apelo A2 RGB Underwater Light
Incorporating optical intelligence and advanced materials for superior lighting brilliance. Apelo A2 delivers impressive RGB light for incredible illumination experiences. Apelo's Optical Intelligence focuses light patterns efficiently below the waterline. A narrow vertical but wide horizon...
€ 316.11 + VAT
Click here for more.