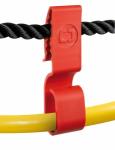 Cable Hook
Cable hook that lets through the shore power cord and the dock-to-boat water hose.
€ 15.93 (VAT including)
269.28 TL (VAT including)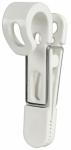 Multipurpose fixing clip
It can be fixed to a bulkhead by a screw or snap-hooked to the Ø 22/28 mm pulpit.

It can be used to hang clothes to dry, ropes, electric cables and any other object.

Made of white nylon and stainless steel spring. 4 pcs pack.
€ 20.26 + VAT
Click here for more.