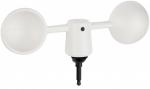 Vaavud Mjolnir Anemometre
Vaavud Mjolnir anemometre, ücretsiz Vaavud aplikasyonu sayesinde akıllı telefonunuzu ileri teknoloji meteorolojik bir alet haline getirir. Tasarımı profesyonel kap anemometreden esinlenilen ürün, cep dostu ve daha dayanıklı olması için 3 yerine 2 kap kullanılarak üretilmiştir. 2-20 m/s arasında (iPhone 5S ve üzeri modellerde 24 m/s ve bazı Android telefonlarda 48 m/s'ye kadar) +/- % 4 hassasiyetle kesin rüzgâr ölçümü sağlar.
€ 25.80 (VAT including)
163.14 TL (VAT including)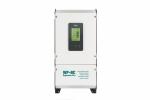 WP-BC Supreme Pro 24/100A Battery Charger
Universal input voltage 90-265VAC / 50/60Hz. Any battery, GEL, AGM, open lead acid, traction or semi-traction can be programmed easily. Three charger outputs (1 main, 2 x 6A). Functional LCD display, battery monitor operational at "ON" and "OFF" position. Temperature s...
€ 1,695.00 + VAT
Click here for more.